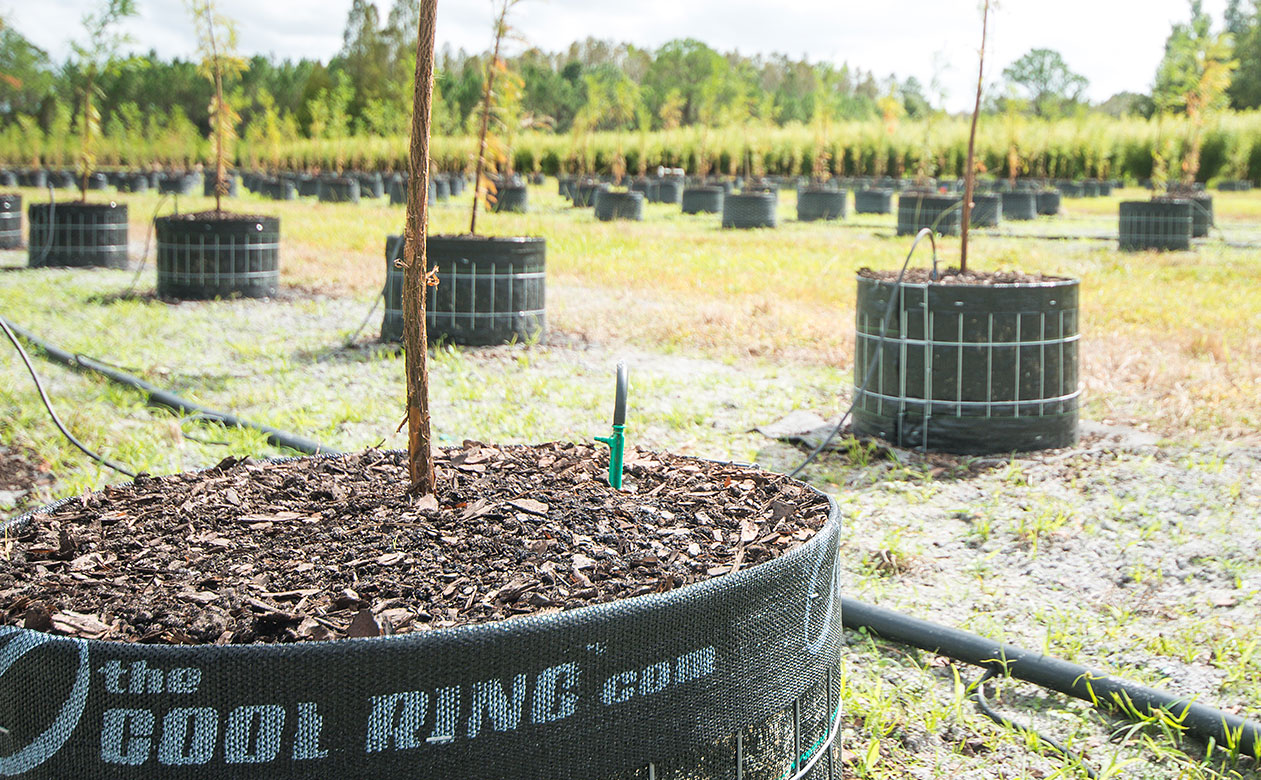 13 Dec

SNA Research Conference – Irrigation Volume & Tree Growth
COMPARISON OF IRRIGATION VOLUMES AND TREE GROWTH OF QUERCUS VIRGINIANA USING POROUS BOTTOM CONTAINERS VS. 25# POT-IN-POTS
---
SIGNIFICANCE TO INDUSTRY
With increasing labor cost and increased interest in root system quality, there is a growing trend in using non-traditional containers with air root pruning sides and porous bottoms. Sixteen months into a 2-year production cycle, irrigation volumes were generally less for the non-traditional containers than for pot-in-pot, with similar tree height, but significantly larger calipers.
RESULTS AND DISCUSSION
When transplanted, trees averaged about 24 in. (0.61 m) in height and 0.28 in (7.2 mm) in caliper. Height growth was about 4to 5ft (1.2 -1.4 m), and comparable among all treatment…
Calipers in the Spring of 2004 for porous container treatments averaged near 1in. and were generally significantly (P<0.05) larger than those in the two solid bottom containers (Table 1).
At this stage in production, porous bottom containers have required less irrigation than those on solid bottoms.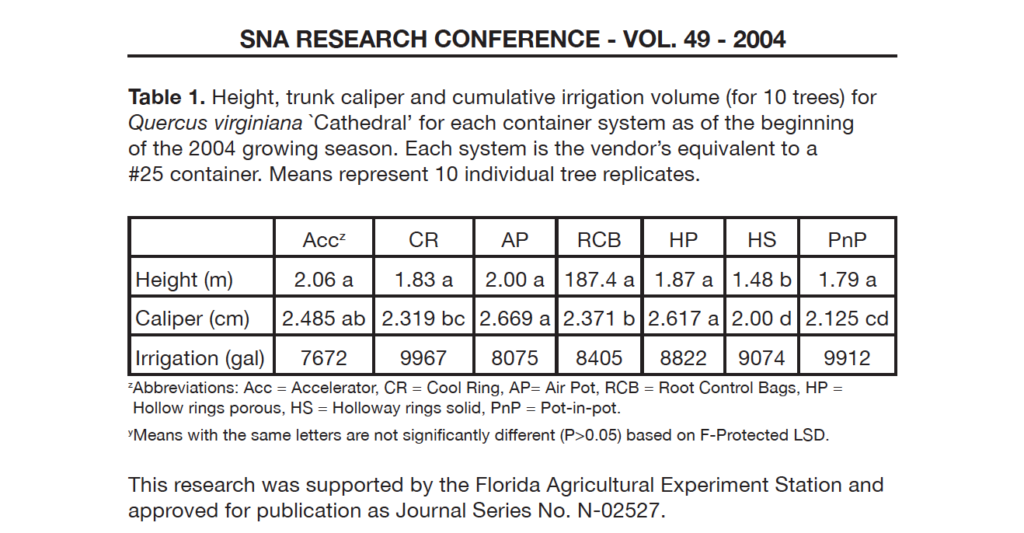 ---
Irrigation Volumes and Tree Growth of Quercus virginiana in Porous Bottom Containers and #25 Pot-in-Pot.
R.C. Beeson, Jr., T.H. Yeager and J. Kahoun
MREC, IFAS, University of Florida, Apopka, FL
Dept. of Environmental Horticulture, IFAS,
University of Florida, Gainesville, FL
Can't view the PDF? Download Adobe Acrobat Reader software is for reliably viewing PDF documents.
Click here to download Acrobat Reader
.
---
Need further information or a free quote?
Email us
or call us today at 863-838-7407, we are happy to assist!
We encourage you to visit us at
Butler Tree Farm
, our research & development nursery, for a personal tour of our 160+ acres of
Cool Ring
container grown trees and shrubs.